These brown sugar cinnamon buns
turn into a slightly chewy caramel when
they cool.  What a tasty treat!
Can't sell enough of them.
Order in advance to ensure you
reserve a tray!
Freshness means starting each day
with a new batch using time-tested
techniques that reflect old world
traditions.  Our bread is created by
hand, from scratch, each step of the
way.  Ulike ready-made products, our
breads use quality ingredients to
create the best results that people
keep coming back for.
These delicious buttered rolled oats
filled to the brim with scrumptious
dates make the perfect squares.
Great for packed lunches and snacks!
Fresh Baked Breads
Sticky Buns
Date Squares

© Pakenham General Store, Pakenham, ON.  Site Design & Web Hosting by

Mark Cassanto & Associates

.
Made with Xara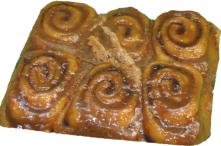 raspberry squares
buns
date squares
lemon poppy loaves
breads
banana bread
muffins
pumpkin bread
marshmallow squares
variety of pies
sausage rolls
pastries
chicken pie
tourtiere pie
butter tarts